Hamburger STAR-CLUB sowie Sport / Städte / Sonstiges aus dieser Zeit / AND MANY MORE...
Star-Club Hamburg ( and more...) Interesse an solch einen STAR-CLUB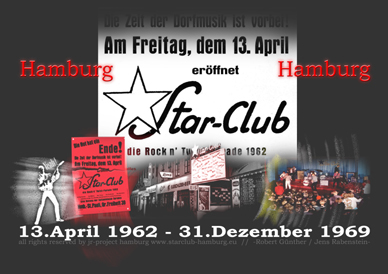 Bild-Kalender ? 12 Monate, 1 Deckblatt ! Voll mit Fotos der Star-Club-Ära bis 1969

Alle Fotorechte bei JR-Project Robert Günther / Kontakt: starclub@jr-project.de

Gesamt etwa 50 Fotos von Jimi Hendrix, Eric Burdon, The Londoners, Frank Zappa, Chris Andrews, The Walker Brothers, Spencer Davis Group, The Liverbirds,

Achim Reichel/Rattles, The Move, The Creation, The Troggs, Vanilla Fudge, Dave Dee,Dozy,Beaky,Mick & Tich, Tony Sheridan, The Smoke, Chris Farlowe,

The Nice, The Rivets, The Londoners, Beatles, Casey Jones, Small Faces, Lee Curtis, Georgie Fame und die Star-Club Bühne.

Größe etwa DIN A4, starkes Material, geschützt durch eine Folie

VIDEO ÜBER EINIGE UNSERER BILDER

AUS DEN 1960ern

2.von links: R.Günther zieht Dave Dee (...,Dozy,Beaky,Mick & Tich) am 25.09.1966 von den Zuschauern weg sowie Original-Dokumente u.d. Star-Club-Ausweis von Mitglied R.Günther
Hier ein externer Partytipp für Hamburg: GAME! 11.November 2017 im "13.Stock" HH-Altona
Star-Club Facebook Star-Club MySpace Unsere Video-Seite Videos YouTube Impressum Kontakt Fussball E.N. Fussball HSV Instagram Events Facebook Events u.a.Twitter UNSERE Events

E

iner der Fotografen des damaligen Hamburger STAR-CLUBS, der in der Großen Freiheit 39, einer bekannten Seitenstrasse der Reeperbahn,

sein damaliges Domizil hatte,war Robert Günther.

Well, I'm one of the photographers of the Hamburg STAR CLUB in the years 1967 - 1969, which had its domicile at that time in the Großen Freiheit 39, a well-known side street of the Reeperbahn. Tausende Bilder dieser Zeit befinden sich in meinem Besitz.Thousands of pictures of this time are in my possession.

Fotos von / Pics of:
JIMI HENDRIX, The SCREAMERS, TONY SHERIDAN, SMALL FACES, CHRIS ANDREWS, ALEXIS CORNER, STATUS QUO, SPOOKY TOOTH, The SMOKE, VANILLA FUDGE, The WALKER BROTHERS, DEEP PURPLE u n d v i e l e m e h r / a n d m o r e .

D e u t s c h / G e r m a n :
Der Star-Club war ein Hamburger Musikclub, der am 13. April 1962 eröffnet wurde. Betrieben wurde er damals vom Star-Club-Gründer Manfred Weissleder. Geschäftsführer Hans Bunkenburg hatte sein Posten wegen Krankheit dem Star-Club-Kellner Horst Fascher übertragen. Die bekannten Bands wurden vom Club selbst gebucht,später mit Unterstützung von Fascher. Die in den Medien immer wieder falsch dargestellten Infos, Fascher wäre der Gründer, ist ein absolute Fehlinformation, teils von einzelnen Personen als Fake an die Medien herangetragen. In der siebenjährigen Zeit seines Bestehens – geschlossen wurde er am 31. Dezember 1969 – gastierten viele bekannte Größen der Rockmusik im Star-Club. Das Gebäude, das lange Zeit brach lag, wurde schließlich 1987 nach einem Brand abgerissen. Die Adresse des Star-Club im Hamburger Stadtteil St. Pauli war Große Freiheit 39.

Im STAR CLUB gastierten Künstler wie The SEARCHERS, BILL HALEY, JERRY LEE LEWIS, LITTLE RICHARD, JIMI HENDRIX EXPERIENCE, BLACK SABBATH, CREAM, RAY CHARLES, FATS DOMINO, The REMO FOUR, The EVERLY BROTHERS und BRENDA LEE. Weltweite Berühmtheit erhielt der STAR CLUB allerdings durch die Gastspiele der BEATLES, die dreimal im Club gastierten: Das erste siebenwöchige Gastspiel begann am 13. April 1962 und endete am 31. Mai 1962. Vom 1. bis zum 14. November 1962 gaben sie 28 Konzerte ihres zweiten Gastspiels. Das dritte Gastspiel dauerte vom 18. Dezember bis zum 31. Dezember 1962.

E n g l i s h / E n g l i s c h :
The Star-Club was a music club in Hamburg, Germany that opened April 13, 1962 and was initially operated by Manfred Weissleder. In the sixties, many of the giants of rock music played at the club. The club closed on December 31, 1969, and the building it occupied was destroyed by a fire in 1987. The address in Hamburg area St. Pauli was: Große Freiheit 39; Große Freiheit is a side street of the Reeperbahn.

The club achieved worldwide renown through the famous performances of the Beatles who played there April 13, 1962 - May 31, 1962 and started another round of performances November 1, 1962. Their last performance there was December 31, 1962; the show was recorded on a home tape machine, and a remixed version was released in 1977 as Live! at the Star-Club in Hamburg, Germany; 1962.

The Beatles' first Hamburg Club performance was at the Indra Club (also Große Freiheit) at 18. August 1960.

Musicians who played here
English musicians (alphabetical):
The BEATLES, BLACK SABBATH (known then as Earth), CREAM, The SEARCHERS, SOFT MACHINE, GERRY AND THE PEACEMAKERS and many more.
American musicians:
JERRY LEE LEWIS (who released a live album recorded at the club), LITTLE RICHARD, FATS DOMINO, RAY CHARLES, EVERLY BROTHERS, BILL HALEY, JIMI HENDRIX EXPERIENCE, JOHNNY AND THE HURRICANES and Brenda Lee.

In the early 1960s the Clubowners also started a record label, STAR CLUB RECORDS, subsidiary of Philips Records.

STARCLUB HAMBURG
BEDANKT SICH AN DIESER STELLE BEI ALLEN DIE MEINE FREUNDE SEIN WOLLEN; MICH ADDEN ODER EINEN KOMMENTAR HINTERLASSEN.

WENN ICH MICH NICHT BEI JEDEM PERSOENLICH BEDANKE ODER IHM ANTWORTE, SO IST DAS KEINE UNHOEFLICHKEIT GEGENUEBER MEINEN FREUNDEN UND GAESTEN, SONDERN AN ERSTER STELLE NUR ZEITMANGEL.

Euch allen:
TAUSEND DANK. Robby + Jens

STARCLUB HAMBURG

DAS RECHT AM EIGENEN BILD Das Recht am eigenen Bild oder Bildnisrecht ist eine besondere Ausprägung des allgemeinen Persönlichkeitsrechts. Es besagt, dass jeder Mensch grundsätzlich selbst darüber bestimmen darf, ob überhaupt und in welchem Zusammenhang Bilder von ihm veröffentlicht werden.
(§ 22 Satz 1 Kunsturheberrechtsgesetz (KUG/KunstUrhG))

Alle bei STARCLUB-HAMBURG.EU und anderen gelisteten Seiten präsentierten Fotos sind Eigentum des Fotografen ROBERT GÜNTHER (+ Partner R………) als Urheber. Sie sind durch deutsches, US-amerikanisches und internationales Urheberrecht geschützt. Die Aufnahmen dürfen ohne Genehmigung des Urhebers JR-PROJECT weder veröffentlicht, reproduziert, manipuliert oder weitergegeben werden. All Rights by: JR-PROJECT Hamburg,Deutschland. Reproduktion von Bildern (auch auszugsweise) sind nur mit vorheriger schriftlicher Genehmigung möglich.
Fotos die der Öffentlichkeit zugänglich gemacht werden sollen, werden über eine gesonderte Preisliste abgerechnet.